01 Jun

MURDER, SHE WROTE? WOULD "TIGER KING" NEMESIS BE TEXAS TOAST UNDER TEXAS ESTATE LAWS?

The recent Netflix series "Tiger King" focused on the feud between an Oklahoma private zookeeper (of big cats such as tigers and lions) known as "Joe Exotic" (herein "Exotic") who also called himself the "Tiger King" and big cat animal rights preservationist, Carol Baskin ("Baskin"). Their bitter rivalry eventually culminated with the imprisonment of Exotic for hiring a hitman to murder Baskin.

However, the series also shows that Baskin was no angel. Exotic claimed that Baskin was involved in the mysterious 1997 disappearance of her then-husband, Don Lewis ("Lewis") who was survived by children of a prior marriage. The marital relationship between Lewis and Baskin was rocky prior to his mysterious disappearance. The attorney for Lewis claimed that Lewis had previously even tried to get a restraining order against Baskin for her threats to murder him for the second time. They also disagreed about the direction of their big cat business as Lewis was more concerned about profits while Baskin wanted an animal sanctuary. Lewis had an estate estimated around $5-10 Million. Lewis has been reported missing since August 19, 1997 (last seen on August 18) and his abandoned van was discovered at an airport a few days later.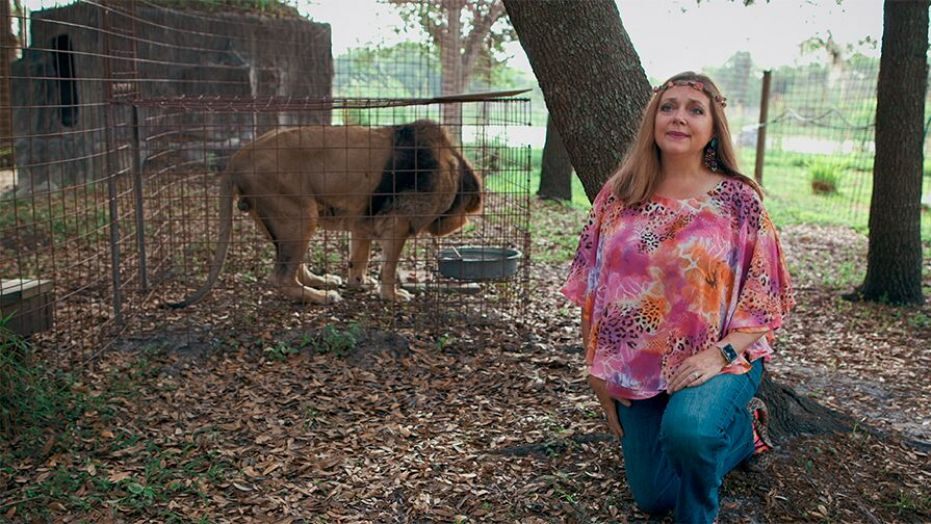 No criminal charges were ever filed against Baskin (although the case has been re-opened due to the popularity of the show). The sheriff's department reported she was uncooperative.
Other suspicious circumstances about Baskin were the allegations of Anne McQueen, the executive assistant of Lewis. She contends that Lewis gave her an envelope (which she put in her desk at the business office) with his power of attorney and Will (which named McQueen as his agent and executor) and a petition for an injunction against Baskin. He advised her to go to the police if something happened to him. McQueen further stated that Baskin broke into her office and took the Will and power of attorney after Lewis disappeared.
Baskin then used a new Will and power of attorney (which indicated that it was prepared by Baskin) that stated Baskin was the executor and agent. The power of attorney included a shocking statement "this durable power of attorney shall not be affected by any disability or disappearance". I know of no attorney who has ever seen the words "or disappearance" in a power of attorney. She then used the power of attorney to transfer most of the assets of Lewis to herself and she (not the children of Lewis) was the beneficiary of the majority his estate under the Will she presented to the court.
If the proper jurisdiction was Texas, what laws would be applicable to Baskin under laws here?
Is a Power of Attorney valid if someone is missing? Until the one who signed (the "principal") the power of attorney is determined dead (see no. 6 below), the agent under the power of attorney should presumptively have the authority to act in a fiduciary manner and in good faith. The existence of strained relationships between parties does not lessen the agent's duty of full and complete disclosure. So, Baskin could act- but she was truly acting in good faith? Was it merely coincidental that he disappeared after he signed the power of attorney that she prepared (which indicated that it was good during his disappearance)?
Is self-dealing allowed under a Power of Attorney? Normally the agent is a fiduciary under the power of attorney and has the burden to show fairness. Self-dealing is not permitted unless the document specifically permits the same (and most do not). It is unlikely that the power of attorney of Lewis had such a provision, but it is possible given the language Baskin prepared with the unusual provision that the power of attorney was good even if he disappeared. As a fiduciary, the primary duty should be to the principal – not the agent. She transferred assets of Lewis to herself.
Could Baskin be removed as Executor? An Independent Executor guilty of gross misconduct or gross mismanagement (not ordinary negligence) can be removed. If the executor uses the advantage of their position to gain a benefit at the expense of those to whom the executor owes a fiduciary duty (the children of Lewis), then there can be a breach of fiduciary duty for self-dealing. Was Baskin guilty of gross misconduct?
Can Baskin benefit if found guilty or is suspected of causing the death of Lewis? Equity does not allow anyone to benefit from their bad acts. Under Texas laws, a murder conviction is not required. The law in Texas is that a civil court needs to only find by a preponderance of the evidence that the accused caused the death of the decedent. Anyone remember O.J. Simpson?
What grounds could the Will of Lewis be challenged? Baskin indicated that perhaps the reason for Lewis' disappearance was that he had some dementia. This raises the question if he had sufficient mental capacity to sign the Will. Another possibility for contesting is the issue of undue influence. The power of attorney clearly indicated it was prepared by Baskin. If she prepared the Will where she was the beneficiary and she was there when the Will was signed, undue influence could be alleged. Finally, she apparently threatened to kill him on more than one occasion. Was the Will signed under duress?
When is there a presumption of death in Texas? Any person missing for seven successive years is legally presumed dead under Texas law. Baskin waited for the 5 year limit under Florida law prior to probating the Will of Lewis.
Do you have to wait seven years to probate a Will of a missing person? No. Texas law allows an interested person to probate a Will even if there is no direct proof that the person died. The court may order an interested person to conduct a search for the missing person. Search costs can be paid out of the estate property.
Although Baskin may have never been charged with a crime, there seems to be many ways which her actions could be legally challenged if this was a Texas tale.
If interested in learning more, consider attending our next free "Estate Planning Essentials" virtual workshop by calling us at (214) 720-0102 or sign up by clicking here. Our goal is to make it easy for you to attend from the comfort of wherever you reside.